Health Millions
There are two chances to win £5 million every week on Monday and Thursday at 9:00pm for just £1.
Pick six numbers from 1 to 50 and a Health Ball from 1 to 5, then match them all with the winning line to land the top prize, which can be boosted to a huge £15 million for Super Jackpots. You can even win a free bet for the future just by matching the Health Ball.
Health Millions is available to play exclusively online. Get your entries by 8:50pm on Monday or Thursday for your chance to become a Health Millionaire!
Latest Results
You can find the latest Health Millions results below. Go to the Results page to see the winning numbers from recent weeks and access an archive of all past results.
Prizes
Health Millions offers some great prizes, including a jackpot worth £5 million! Take a look at what you can win.
Prizes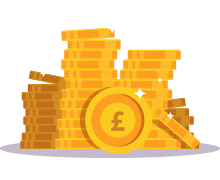 FAQ
Get to grips with Health Millions quickly with the answers to all the most frequently asked questions about the game.
FAQ